Current location: Lenses&Mirrors
Laserline Lens is one kind of aspherical lens, which can transform laser beam into a straight laser line. At present our laserline Lens are available in fan angles of 5°, 10°, 15°, 20°, 30°, 45°, 53°, 60°, 70°, 75°, 85°, 90° and 96°. The lens is optimized for a Φ0.8mm, Φ1mm, Φ1.25mm, Φ1.5mm, Φ2mm, Φ2.2mm, Φ2.6mm, Φ3mm, Φ3.6mm, Φ4mm, Φ5mm and Φ7mm input laser beam diameter. And it will convert the beam into a uniform, straight line. Using this lens design will result in an impressive, even distribution of energy along the length of the line. These lenses offer excellent overall stability and line quality. They outperform cylindrical lenses that generate Gaussian beam profiles with hot-spot center points and fading edges. originally designed for laser line generators, they are now offered unmounted for a variety of custom applications, including: use in alignment, machine vision systems, construction and process control.
Key Feature

Accurate Fan Angle
Excellent Uniformity
Lens Diameter: 8.92±0.02mm
AR coating is available
Handmade with High Precision

Specification

Wavelength
Red or Green
Fan Angle
5°,10°,20°,30°,45°,53°,60°,70°,75°,85°,90°,96º
Angle tolerance
±1°
Beam Diameter @1/e²
0.8mm, 1.0mm, 1.25mm, 1.5mm, 2.0mm, 2.2mm, 2.6mm, 3.0mm, 3.6mm, 4.0mm,5.0mm,7.0mm
Line Intensity Uniformity (Pmax. – Pmin.)
≤10%, ≤25%, ≤35%, ≤45%
Dimension
Dia.8.92mm
Length
7-9mm
Note: Other Dimensions (Dia. 6mm, 6×6×6mm) are available upon request.
Dimension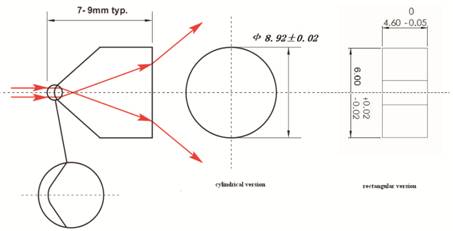 Standard Products

Part No.
Fan Angle
Input Beam Diameter
Line Intensity Uniformity
Coating
JLL30
30°
1.0mm
<45%
None
JLL45
45°
2.6mm
<25%
None
JLL20
20°
3.0mm
<35%
None
JLL60
60°
1.5mm
<25%
AR @ 532nm

Input Beam diameter
08-0.8mm; 10-1.0mm; 12-1.25mm; 15-1.5mm; 20-2.0mm; 22-2.2mm; 26-2.6mm; 30-3.0mm; 36-3.6mm; 40-4.0mm; 50-5.0mm; 70-7.0mm
Fan angle
05-5°; 10-10°; 15-15°; 20-20°; 30-30°; 45-45°; 53-53°; 60-60°; 70-70°; 75-75°; 85-85°; 90-90°; 96-96°
Line Intensity Uniformity
A: <10%; B: <25%; C: <35%; D: <45%
Coating
C: with AR coating, both side; N: without coating
Coating Wavelegnth
AR coating @ wavelength